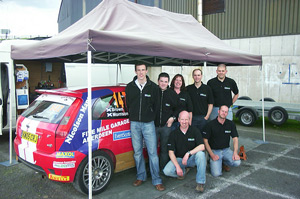 As the spotlight of the media and press shine on the driver and co-driver, a highly skilled team of people who travel the length and breadth of the country, work flat out behind the scenes to keep the gears turning in a winning team. Rallying is a team sport, in which the driver and co-driver must work in perfect harmony with the car to overcome some of the harshest elements of nature, and to go quicker than any of their rivals. This only scratches the surface of the whole team however, as rally technicians work to maintain the car, a dietician offers advice to the driver and co-driver what to eat and drink to maintain maximum performance.
Much like a large machine, remove one of these vital components and the whole machine will breakdown. The service team is made up of skilled mechanics, who have to be able to turn their hand to anything, often having to use their initiative to solve problems when parts are not readily available from using jack handles to straighten bent suspension arms to re-building the car in a week.
Stevie says, "When we have a problem on an event we know that if we can get the car back to service the guys can get it fixed, that's a big confidence boost when you're on an event."