March 2012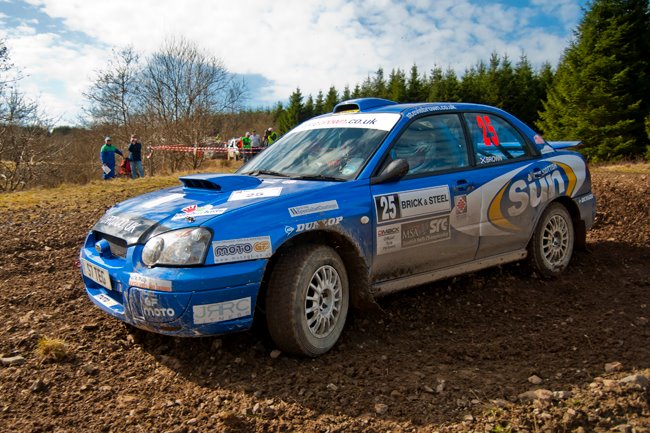 Stevie Brown and co-driver Jack Morton finished the Border Counties Rally a remarkable 13th overall, after a puncture on the opening stage of the day relegated them to 36th on the leader board.
The second round of the Scottish Rally Championship attracted top drivers from across Britain and Ireland, making the line up at the rally start the strongest of the year so far. The Global Web backed crew of Brown and Morton made a strong start to the event, until early on the first stage the team came to grief with a front left puncture.
The 24-year-old driver fought with the car just to stay on the narrow gravel track for the rest of the stage, haemorrhaging time with every mile that passed. "It was completely my fault, we were just too deep on the inside of a square left and the front left wheel took a very big impact – we were lucky to get away with just a puncture, it could have been a lot worse" explained Stevie at the stage end.
Stage two would mark the beginning of the teams fight back, climbing 14 places over the nine mile test. The Dunlop Tyres shod Subaru Impreza continued to rise through the leader board, and arrived at the mid day service halt in 15th position.
"We lost over 50 seconds on the first stage with the puncture, but we would have lost a lot more if we stopped to change it. We've got two more stages to do and hopefully we can make up a few more places" said Jack.
The warm afternoon sun had dried much of the roads in the infamous Kielder stages, in parts shaded by the forest however the surface was wet, muddy and slippy. It meant drivers had to adapt to ever changing levels of traction, and at speeds well over 100mph, braking just a few foot too late could end in disaster. Brown and Morton charged through the nine mile stage, through mud, dust and over blind crests to climb another place on the leader board.
With just one more stage remaining the NRP Sign Writing backed team negotiated the eight mile test lined with jumps, hairpins and high speed sections where the teams would reach top speed. The Subaru crew made it safely through the final test, and claimed to 13th position. Stevie said at the rally finish, "It's disappointing to have had the puncture, but that's rallying. We've made a decent comeback and I'm happy with our result consider where we were this morning."
The next round of the Scottish Rally Championship is Stevie's home event, the Granite City Rally and the former 1600 Scottish Champion will be hoping for a strong performance on home soil.
(Picture credit: Daniel Forsyth)
For more information see our News section.