March 2011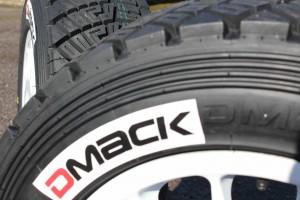 DMACK tyres has announced their support of Scottish rally star Stevie Brown as he contests the MSA Scottish Rally Championship behind the wheel of a Subaru Impreza.
The high performance tyre firm, who currently leads the Production WRC after a win in Sweden and a podium in Portugal, are backing the 23 year old driver after an impressive four-wheel-drive debut on the Snowman Rally.
Stevie quickly established himself as one of the UK's hottest talents when he won the 1600 Scottish Rally Championship, and the Colin McRae tribute Award in his first full year of rallying. Achievements which lead him to the inclusion of the MSA British Rally Elite scheme, lead by former World Rally Champion Robert Reid.
Making the switch to four-wheel-drive this season, Stevie has put in a series of impressive stage times despite no test time prior to the start of the season, something that has not gone unnoticed by DMACK Tyres motorsport director Dick Cormack.
DMACK tyres were one of the first companies to take advantage of the Speed 8 initiative Stevie and the team rolled out after the Snowman Rally. As part of the scheme, eight investors who each contribute £750 will receive a bespoke branding campaign as Brown and co-driver Andrew Roughead contest the MSA Scottish Rally Championship.
Stevie Brown, DMACK Tyres supported driver, said: "We're really excited to be working with DMACK, and have been very impressed with the performance of the tyres and the technical service available. The DMACK Tyres have made the switch to four-wheel-drive easier for sure; they are very progressive and give you a good level of confidence, even in very slippery conditions.
For more information see our News section.