April 2014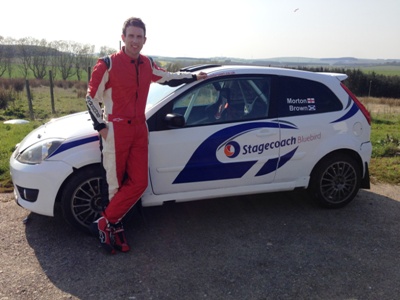 Former 1600 Scottish Rally Champion Stevie Brown will tackle this weekend's (26 April) Granite City
Rally behind the wheel of his Stagecoach Bluebird backed Ford Fiesta ST. Brown and co-driver Jack
Morton are tackling the event after a one-year sabbatical, and will line up alongside the UK's top
drivers as Aberdeen plays host to round three of the ARR Craib Scottish Rally Championship.
Brown, the inaugural winner of the Colin McRae tribute award, says it'll take him a while to get back
up to full speed. "I think it'll take us a few miles to get back in to the swing of things" says Stevie.
The Global Web backed driver continues, "This is our home event, so the local crowd with friends
and family there is always a big boost and I'm really looking forward to it."
Brown will be joined by co-driver Jack Morton, a member of the MSA Academy Junior co-driving
program, a training series for the UK's top co-driving talent. "This event has a good mix of technical
and really fast sections, which are often lined with a row of trees on one side and a 80 foot drop on
the other, so it makes my job to deliver the notes at the right time in the right way very important as
there is such a small margin for error" explained the Newcastle based co-driver.
The Neil R Philip Sign Writing backed fast Ford will face over 44 miles of flat out competition on
some of the most famous stages in the Scottish Championship, and with the countries top drivers
revving up on the start line it promises to deliver a thrilling battle right up to the chequered flag.
For more information see our News section.