April 2012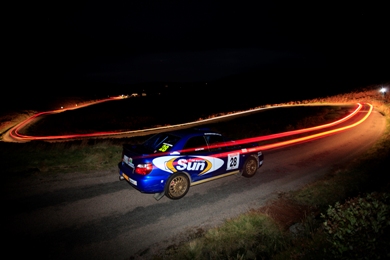 Aberdeenshire welcomes the third round of the Scottish Rally Championship this weekend, as the Granite City Rally roars into action on Saturday (14 April) where Scottish rally ace Stevie Brown will be hoping the home support will rally him on to a top position.
Over 100 teams will line up to start the event on Saturday morning from Thainstone Mart, Inverurie, and with many of the UK's top drivers in attendance the race for the top ten positions on the leader board promises to offer a thrilling battle. "There are some very fast teams doing the rally, so we're going to have to be at the top of our game and push as hard as we can" said Stevie. The Global Web backed driver continues, "This is our home event, so the local crowd with friends and family there is always a big boost and I'm really looking forward to it."
Brown will be joined by regular co-driver Jack Morton who was recently selected as a member of the MSA Academy Junior co-driving program, a training series for the UK's top co-driving talent. "This event has a good mix of technical and really fast sections, which are often lined with a row of trees on one side and a 80 foot drop on the other, so it makes my job to deliver the notes at the right time in the right way very important" explained the Legend Fires backed co-driver.
The Dunlop shod Subaru Impreza team will face over 40 miles of flat out competition on some of the most famous stages in the Scottish Rally Championship, and with a few minor set backs on the first two rounds of the series, the former 1600 Scottish Champion will start his climb back up the leader board.
For more information see our News section.