May 2011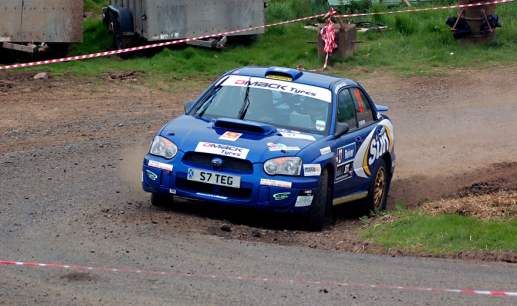 Stevie Brown and co-driver Craig Chapman were forced to retire from the Jim Clark Reviers Rally last Sunday, when their Subaru Impreza's gearbox jammed in 5th gear. The motoGF supported driver travelled to the Scottish border town of Duns, the home town of motor racing legend Jim Clark, to contest the tricky tarmac rally.
With brake problems on the opening stage, the JRRC Fitness backed team turned in an impressive time. "The brake pedal was going straight to the floor all the way through there" explained Stevie at the stage end.
The Jim Clark event is famed for its high speed stages, lined with jumps and bumps to catch out even the best drivers. As the DMACK Tyres supported Subaru negotiated stage two at speeds over 120mph, the gearbox broke, forcing Stevie to nurse the car back to the service area jammed in 5th gear. The service team quickly found the problem to be within the gearbox, and with no spare the leading Scottish team would be forced to retire.
"For sure it's very disappointing, we've put in a lot of work in to do this rally but we have to remain positive and look to the future. We're going to focus on getting the car right for the next event, and we're confident that despite the lack of seat time we can still be competitive" explained Stevie.
For more information see our News section.