June 2011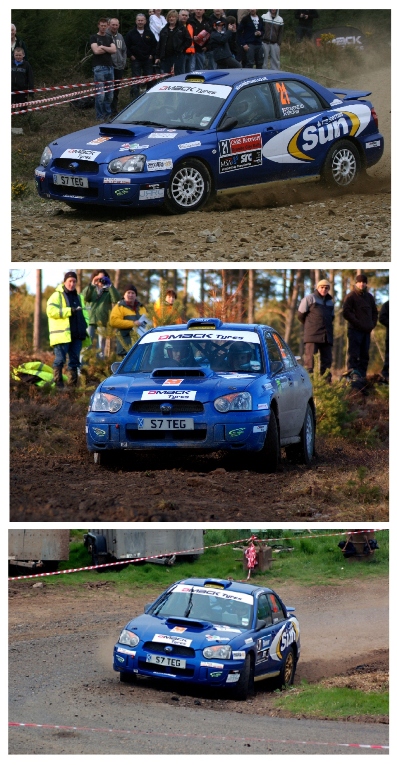 The step up to four-wheel-drive was never going to be easy, but at the season start things looked promising for Stevie, finishing his first rally in a four-wheel drive car in the top ten. Since starting his career Stevie Brown has only driven front-wheel-drive cars, and has established himself as one of fastest in the country, first in his diminutive Vauxhall Nova, and most recently in his Ford Fiesta ST. It's this reputation that Brown will be eager to recreate now he's behind the wheel of the more powerful four-wheel drive Subaru Impreza.
For someone who's only finished one of the three events he's contested so far this season, you would expect Stevie to be a little anxious, perhaps nervously tapping his foot, with eyes frantically searching the room for a solution to the mechanical gremlins that have hampered his season so far. But no. Instead, he sits back in the sofa, relaxed, calm and at perfect ease. He's just come off the phone from helping a fellow competitor with tyre advice, and suspension settings to improve handling.
Having reported circuit racing exploits for a number of years, this freely shared tyre and set up knowledge comes as somewhat of revelation to me, and I ask Stevie why he shares information so freely when most racers would keep it a closely guarded secret. "I don't know why people don't want to help other people; it's a mystery to me. I like helping people, and if I can help them go faster then it's really rewarding. I've been fortunate to have learnt from some of the best in the world, and so if I can pass on even one piece of information that I've learnt that will help someone I'm happy."
Stevie's serenity may stem from the fact that he knows when everything eventually clicks into place, he has the speed to challenge at the sharp end of the competition. The MSA Scottish Rally Championship curtain raiser, The Snowman Rally, stands as a testimony if it were ever needed.
Despite having never turned a wheel in the Subaru, and his first time driving a four-wheel-drive car in a rally, Brown set a string of top ten stage times, and in spite of differential problems, Brown and co-driver Andrew Roughead went on to finish the event tenth overall, with a final flourish on the closing stage, seeing the pair set 7th fastest time with no centre differential.
With a solid top ten finish under their belts and with new tyre partners onboard for 2011, the season looked promising for the DMACK Tyres backed team. While the rate of development off the stages has been equally as fast as during the races. "Although the car has been used in rallies before, it's new to us and there is quite a bit of development work that we need to do" explained Stevie. And it's not just the team car that's been improved; Stevie has never been fitter thanks to fitness partner JRRC Fitness.
"I wasn't under any illusion that this year was going to be tough" explained Stevie. He continues, "There's a lot for me to think about as we need to change the style of driving a little, so by being fit it means I can concentrate longer and harder, and ultimately be more relaxed in the car." The fitness partnership saw Brown line up to take part in the Baker Hughes 10K Run with trainer Jamie Rose to raise money for local charity Cash for Kids. "It was a bit of fun and we were also able to raise money for a great cause" said Stevie. In a hectic schedule that sees Stevie training up to three times a week, working on developing the rally car in the workshop and honing his pacenote writing skills, you wonder when he has time to relax. "If you want to improve you need to keep pushing yourself, or the rate at which you develop will slow down" he explained.
The Granite City Rally would mark the second outing in the new car, and this time on home soil. "There was a lot of support for us on the Granite and we were hoping for a good result" explained Stevie. With the car running well on the pre-rally VIP stage, and Stevie reporting a noticeable increase in confidence having spent time with Subaru World Rally Production Team boss George Donaldson, the young driver was looking forward to the challenge of the fast flowing home stages that lay ahead.
A broken driveshaft on stage one would however stop Brown and Roughead in their tracks. "It was really disappointing for the whole team. Everyone put in a huge amount of effort, but unfortunately its just one of those things. It would have been impossible to tell that the shaft would break."
With the Jim Clark Rally next on the cards and the first time on tarmac, the learning curve would continue, this time joined by a new co-driver Craig Chapman. Drama would unfold on the build up to the event, with the suspension being held up at customs on its return from Ohlin's base in Belgium, and arriving back in the country only a few hours before the team were due to depart for the Scottish borders.
On a test drive before loading the car onto the trailer, it quickly became apparent there was a serious problem with the brakes. "The pedal was going straight to the floor and the front brake pads were on fire" casually explained Stevie.
A rear brake calliper had developed a pin hole leak, while a faulty set of front brake pads explained the excessive wear and fire. Fellow competitor and Subaru driver Alick Kerr supplied a replacement brake calliper for the stricken Subaru. "Because the parts come from outwith the country we were struggling to source a replacement calliper, thankfully Donald and Alick were kind enough to lend us their spare" said Stevie.
Brakes would however remain one of the main issues on the event, with Brown struggling through the opening stage. "The front brakes have really bad pad knock, so we have to left foot brake down the straights to keep the pressure there, but even then the pedal was going to the floor when we're doing the big braking" explained Stevie.
Having safely negotiated the first stage, the new pairing of Brown and Chapman would find themselves stuck in 5th gear for over half of stage two. Remarkably the crew were able to nurse the car back to the service area, negotiating the road section entirely in 5th gear. At the service the team diagnosed the fault as a broken pin inside the gearbox, and would unfortunately force the team out of the event.
Sitting in front of me is not a worried man, and even when faced with the question of what he's going to do to bounce back he smiles widely, rubbing his hands together as if it's a challenge that excites him. "Yeah it's disappointing to have had the problems, but we need to remember it's a new car and we're constantly developing it. This year was always about learning and getting the teething problems out of the way, which will allow us to be more competitive next season, that's when we can start thinking about championships."
Stevie and the team have undoubtedly been unlucky so far this season, but the team have shown that with very little experience they can be competitive, and with more time in the car they will only improve.
The team's next event is the Speyside Stages in Elgin, and Stevie is hopeful they can improve on their tenth overall finish. "We've done the Speyside Stages a few times before, so I'm looking forward to getting back out in the car." He continues, "We always have a great amount of support when we do the Speyside which always makes a difference, and our aim is to improve on tenth – that's our best result so far, so we don't want to be going backwards."
As the young driver continues his high speed learning process, his sights are firmly fixed on a podium position before the 2011 season comes to close. Stevie undoubtedly has the speed, which often counts for so much more than consistency on its own, but first, he must reach the finish line.
For more information see our News section.