February 2009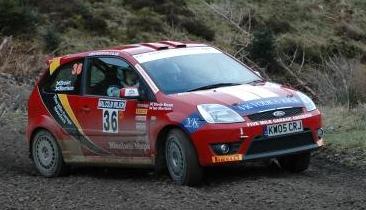 Stevie Brown will be aiming to start his 2009 season in style, as he makes his bid for victory on the opening round of the VK Energy Fiesta Sporting Trophy championship, on this weekends Malcolm Wilson Rally (March 7th).
The Fiesta Sporting Trophy series is set to attract some of the most talented young drivers in world, with crews travelling form all over the globe to compete in the series. Stevie, who won the Malcolm Wilson Rally last year says it will be a tough challenge to repeat the feat, "There are some fantastic drivers competing in the championship, you really have to be pushing hard and driving perfectly if you want to win".
The Millers Oils backed Ford Fiesta ST will be co-driven by the experienced Martin Forrest. "Martin has done this rally a few times before which will be a great help for me" said Stevie. He continues, "last year I took some time to acclimatise to a new note system, but this year I've already got that experience so can concentrate on pushing from the start."
The Five Mile Garage supported crew of Brown and Forrest will face 45 miles of some of the fastest gravel roads in the country. The high speed nature of the event can mean even the smallest of errors could make the difference between winning and loosing.
Stevie who will start the event second Fiesta on the road, says he plans to push from the start. "We need to push from the beginning of the event as it will be difficult to monitor the other drivers times being so close to the front."
As one of Scotland's most exciting rally talents makes his bid for victory in a race that will see him reach speeds of over 100mph on narrow gravel roads, everything is still to drive for, to make the best possible start to the 2009 rally season.
For more information see our News section.