April 2009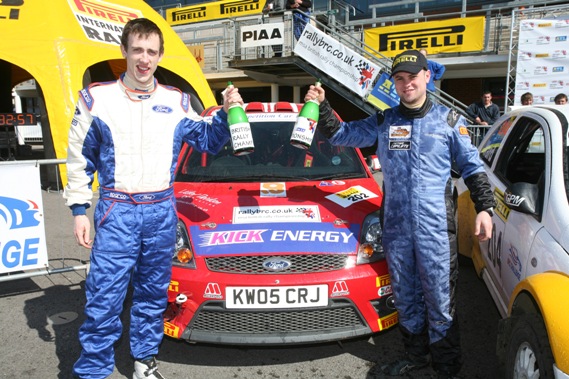 Last weekends (April 17th and 18th) Pirelli Rally based at Carlisle, would witness Stevie Brown and Andrew Roughead launch an inspired comeback drive that would see them finish the event in second place, just 1.3 seconds behind the eventual rally winner, having lost over a minute on the opening leg of the event.
The rally would mark the third round of the Kick Energy Fiesta Sport Trophy, and the second round of the British Rally Championship Challenge series. Brown and Roughead encountered problems on the opening stages of the rally, as the event began while the sun set on Friday evening. The LAD Marketing crew found themselves stuck in third gear, with over 17 stage miles ahead of them.
Despite trying to make emergency roadside repairs the Ford Fiesta ST crew were forced to complete the entire opening leg using only third gear. "As soon as we drove off from the start line we had nothing but third" said Stevie. "It was very frustrating as the stages were so fast we knew we were loosing time, but couldn't do anything about it."
Even with their gearbox woes and going off the road on the second stage, the Millers Oils backed crew set fourth fastest stage time on both tests, loosing a over a minute to their Kick Energy Fiesta Sport Trophy Championship rivals. Saturday morning would see the start of the second leg, and with the service crew fixing the gear selector problems it allowed Stevie and Andrew to concentrate in clawing back the time they had lost.
A cautious start to the opening stage of the day would see the Five Mile Garage backed crew slip further back, and with only three stages remaining time was fast running out to climb the leader board. The hard charging Scotsman set his first fastest time of the rally on the following test. The penultimate stage of the event would see the crew set third fastest time, citing pace note issues being the reason for the lack of speed.
A final push over the last stage of the rally would see the Global Web crew set another fastest time, finishing the event in second place, just 1.3 seconds adrift of taking their first rally win together. "For sure it's disappointing to have missed the win by such a small margin. But when you consider the problems we had last night, to finish the event second overall isn't so bad."
For more information see our News section.