April 2009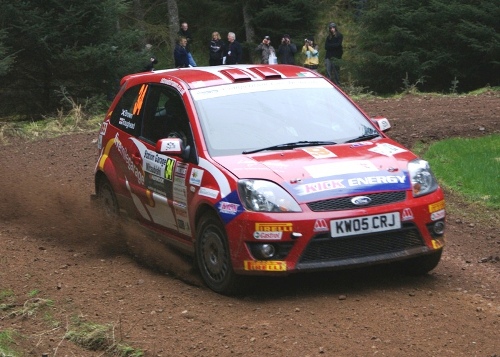 Last weekends (April 25) Station Garage Mitsubishi Granite City Rally saw Stevie Brown and stand-in co-driver Ronnie Roughead, storm to a dominant class victory despite encountering several punctures throughout the day on the Aberdeen based event.
Stevie, who was tackling the third round of the Hankook Scottish Rally Championship in a bid to raise awareness of local children's charity Cash for Kids, set the pace from the opening stage, and went on to set fastest times on all 6 of the day's stages.
Stage three would see the Lad Marketing driver slowed with a rear puncture, "We collected a puncture in the last mile or so of the stage. It made it very difficult to keep the car on line, which on this event is particularly important as there are often 200 foot drops either side of the road" explained Stevie.
After the only service halt of the event, Brown and Roughead completed a ragged stage 4. "We were too untidy through that stage" admitted Brown at the end of the fourth test. A second puncture early in stage five put a close to the Global Web backed crews charge for top front wheel drive car as Stevie explains. "Our aim was to try and catch Bruce Mccombie after service, but with the puncture on stage 5 we've lost too much time, we'll have to settle for second."
To seal their win the Millers Oils backed crew complete the final stage of the day setting an incredible average speed of over 3 seconds a mile faster than their nearest rival. "It's been a good win, made even more special because we achieved it for Cash for Kids" said Stevie.
You can hear how Northsound Radio presenters faired when they tried their hand at co-driving for Stevie this Tuesday morning on Northsound 1 and 2, Stevie's official 2009 media partners. (Northsound 1 96.9 FM and Northsound 2 1035 MW)
For more information see our News section.