May 2009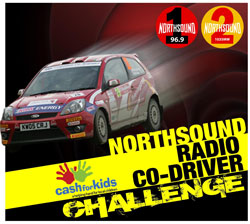 Northsound Radio presenters Yaz and Cammy Campbell tried their hand at co-driving on the run up to the Granite City Rally, in the Cash for Kids co-driver challenge. The radio pundits were given a set of pacenotes to read to Stevie as they negotiated the tricky VIP stage. Did the pair know what they had let themselves in for?
Listen here to find out how they faired!
For more information see our News section.