February 2011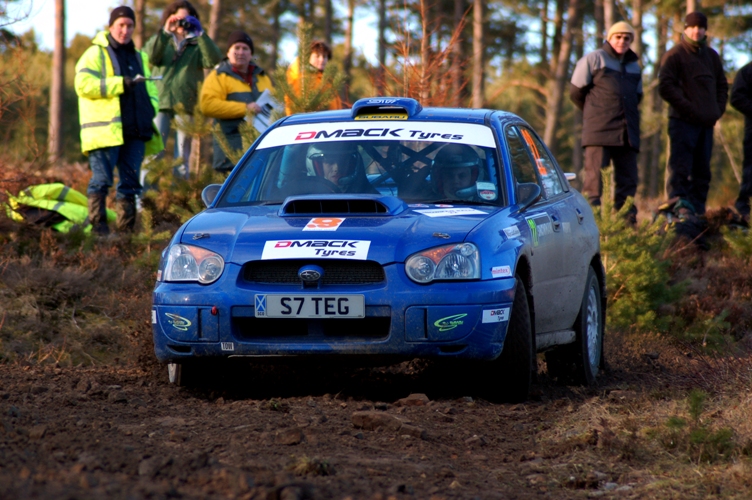 Stevie Brown made an impressive return to the MSA Scottish Rally Championship on last weekends (19 February) Snowman Rally in Inverness, finishing 10th in his four-wheel-drive debut despite differential problems. Brown and co-driver Andrew Roughead made the switch to a Subaru Impreza this season, and with no time test the car before the rally, the opening stage of the event, and the longest at over 11 miles, would mean the Global Web backed crew would have to adapt quickly to the new machine.
Despite it being some ten months ago that Stevie last contested a rally, the 23 year-old driver completed the opening stage in an impressive 10th fastest. "I'm pleased with our time in that stage" said the Scottish Sun backed driver. He continues, "We weren't taking any risks, and at this point we're just trying to learn the car and our new Dmack tyres."
The NRP Sign Writing backed Subaru was however almost stopped in its tracks on stage four, when a rear differential failure forced the crew wide. "The rear diff stopped working properly and we went wide and got stuck on a bank. We couldn't get the car started again and lost over 40 seconds" explained Stevie. With the time lost it dropped the crew back to 12th, and with just one stage remaining, the JRRC backed team faced a daunting challenge to climb back up the leader board to a top ten position.
With the car far from perfect, Stevie and Andrew launched into the final 8 mile test, fighting to keep the car on the road. Against all the odds, the Millers Oils backed crew completed the stage 7th fastest, and incredibly were 25 seconds faster than their nearest rivals, jumping back up the leader board to 10th. "We've never driven the car before today, so to have a top 10 finish on our 4 wheel drive debut is fantastic" explained Stevie.
The team now face a race against time to fix the car and find the budget to contest the second round of the series in Jedburgh on March 19. "We have shown this weekend that we have the speed, and we can only improve from here, so hopefully we can get a few more sponsors onboard to allow us to continue in the full championship" explained Stevie.
For more information see our News section.