February 2011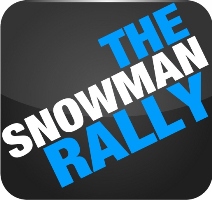 Scottish rally ace Stevie Brown and co-driver Andrew Roughead are preparing to tackle the opening round of the Dmack Scottish Rally Championship in Inverness this weekend. The national series curtain raiser will see over 100 cars negotiate the demanding gravel forest tracks on Saturday 19th.
Brown will make the switch from his Ford Fiesta ST to his teams new Subaru Impreza, and the Abermed supported driver says he's looking forward to the start of the 2011 season. "The team have been working really hard during the off season, and I'm looking forward to making the switch to the Subaru". The Scottish Sun backed driver continues, "This weekend will be a steep learning curve as we get used to having twice the power and four-wheel-drive."
The Snowman Rally, famed for its wintery weather lining stages with snow and ice, presents crews with a unique and demanding challenge. "Ice makes things very difficult, you're relying completely on your notes to tell you what's ahead. Because we can't use studded ice tyres it's treacherously slippery when we're driving on ice, even the smallest of mistakes could spell disaster" explained the Global Web supported driver.
During the off season Stevie and Andrew have been following an intense fitness program under the expert guidance of fitness and wellbeing partners JRRC. "The work we've been doing with JRRC has been hugely beneficial and means we arrive at the first round fighting fit" explained Stevie.
With over 45 miles of the fastest and most demanding gravel stages in the Scottish Highlands ahead of the NRP Sign Writing backed crew, they will need to be on top form as they not only negotiate the tricky rally route, but face the added challenge of learning a new car. "Stevie and I are working hard in preparation for the event to try and minimise the learning curve, we'll probably spend around 8 hours going through our pacenotes looking at the DVD" explained Andrew who will co-drive on the Snowman Rally for the first time.
As Inverness plays host to the opening round of the 2011 Dmack Scottish Rally Championship, the season promises to offer a high speed assault on the sense, and the Millers Oils backed team will be hoping to feature in the thick of it.
For more information see our News section.