February 2011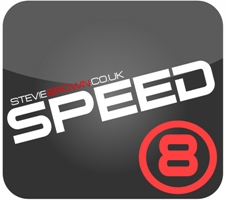 Scottish Rally sensation Stevie Brown has announced the launch of Speed 8, an exclusive new platform giving 8 investors the opportunity to win an unforgettable passenger rally ride with Stevie.
The first eight companies who invest in the Speed 8 concept will receive an exclusive package, including branding on the rally car, a feature page on the official team website and a VIP guide to the Granite City Rally. But the most exciting part of the package is investors will win two high speed thrill rides with Stevie in a pre-event shakedown stage.
Stevie, winner of the inaugural Colin McRae tribute award is contesting the MSA Scottish Rally Championship behind the wheel of a Subaru Impreza, and with over 40,000 fans attending each of the events; the national series is fast becoming one of the biggest sporting events in the Scottish calendar.
Northsound1 presenter Yazz experienced a passenger thrill ride with Stevie earlier this year. "It was an absolutely thrilling experience! It was like going on your favourite rollercoaster but even better, with the advantage of not having a long queue to contend with!" laughed Yazz. She continues, "It really was the ultimate adrenalin rush, and I would totally recommend it to anyone!"
With each package requiring an investment of £750, Stevie is sure they have created a winning package. "We spent a lot of time and effort making sure we got this right. The package offers investors great brand exposure for the rest of the year and a really exciting way to entertain clients."
For more information please contact info@steviebrown.co.uk
For more information see our News section.