April 2014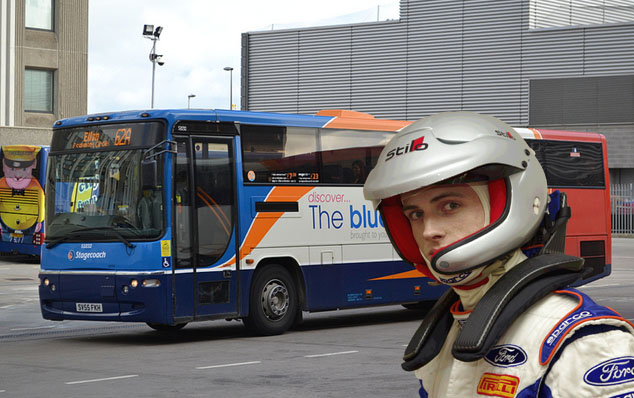 Scottish rally ace Stevie Brown and leading public transport provider Stagecoach Bluebird have today officially announced their sponsorship deal for the upcoming Granite City Rally (April 26). Stagecoach Bluebird who serve more than 33,000 customers a day over 100 routes in the North of Scotland will support Stevie and the team as they make a return to the national series after a year away from the sport.
Brown, a former 1600 Scottish Rally Champion says he's delighted to be back in the driving seat with the support of the public transport giant. "I'm really excited to welcome Stagecoach Bluebird on-board the motorsport adventure. There are a number of similarities we share in our partnership, with a primary focus on professional driving and safety. Rallying is all about following the correct route and running to the time schedule which is a synergy shared with Stagecoach Bluebird as well" explained Stevie.
He continues, "The Granite City Rally is a fantastic event which is hugely popular with rally teams and fans alike, with the stages lined with huge crowds of spectators - it creates a fantastic atmosphere."
Claire Burt, marketing manager at Stagecoach North Scotland said: "This is a very positive sponsorship, with a local talented driver and a local event. We are looking forward to working with Stevie and adapting some of his skill-sets within our own internal communications programmes, by applying his planning and racing tactics to various projects."
Burt continues "This is a new way to demonstrate to our teams how there is a synergy between all levels of drivers and all types of vehicles, and the importance a rally driver pays to understanding his routes; hazard perception; emphasising the importance of driving in a controlled manner; the need to be aware of safety at all times and the checks a rally driver applies to his vehicle before every race. This partnership will help to emphasis to our teams the constant need for safety and the attention to detail needed to be a superb driver - it will also have its elements of fun."
For more information see our News section.