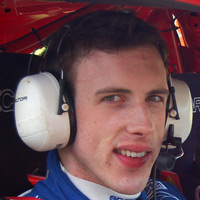 DOB: 07/06/1987
Stevie began driving at the tender age of just SIX years old! He has grown up with rally cars all around him as both of his parents competed, so as you can imagine it wasn't long before he started to compete himself. As soon as Stevie was old enough he started to make a name for himself in local clubman events, where his raw talent achieved considerable success, despite his youth and relevant inexperience.
In 2007 Stevie entered the Scottish Rally Championship, his first full championship assault. Entering the series for the first time, Stevie had mapped his year out to be a steep learning curve. He clinched the 1600 championship on the penultimate round of the series, and went on to be awarded the Colin McRae Tribute award. The tribute award named, 'If in doubt...flat out' was awarded to a driver who had shown the same natural ability and commitment as the 1995 World Rally Champion.
E-Mail
:
info@stevie.brown.co.uk
Further information about the members of Our Team is also available.