March 2012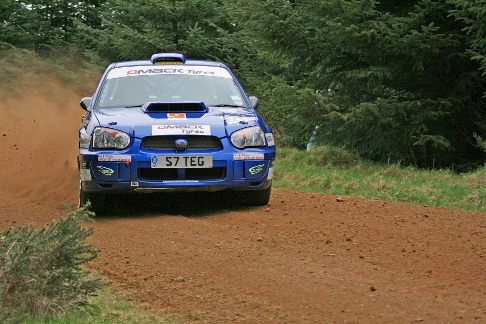 Stevie Brown and co-driver Jack Morton will tackle British rallying's most fearsome stages in this weekends Border Counties Rally, in the second round of the Scottish Rally Championship. The national road show arrives in Jedburgh, where the population is set to double as teams and fans from throughout the UK make their way to the historic town on the Scottish border.
Behind the wheel of their Global Web backed Subaru Impreza, Brown and Morton will look to continue to build their strong championship campaign having finished 13th on the first round of the series on the Inverness based Snowman Rally. "The Snowman was the first time Stevie and I had worked together and the first time I've co-driven in a four-wheel-drive car on gravel" said Jack. He continues " We're definitely going in to this event in a much stronger position now that we've got a bit of experience" explained the Legend Fires backed co-driver.
Many of the stages in this weekends event are based in the Kielder forest complex, where narrow roads lined with deep ditches mean there is no margin for error, with even the smallest of mistakes spelling disaster and why the complex has earned the nickname 'Killer Kielder'. "The stages in this rally are tough for sure, that's why it's so important to put the work in before the event to make sure we're happy with the notes" explained the JRRC Fitness backed driver.
With over 80 teams lining up to start the 44 mile race on Saturday morning, the inaugural Colin McRae tribute award winner will face still competition from the country's fastest drivers in a race that promises to push teams to the limit.
(Photo supplied by Don Murray)
For more information see our News section.