April 2014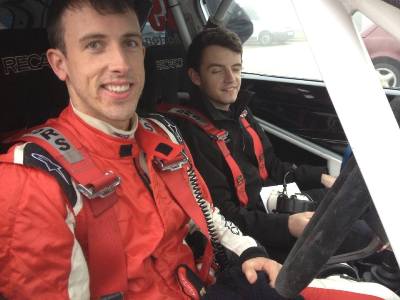 Stevie Brown and co-driver Jack Morton battled to finish last
weekend's Granite City Rally despite getting stuck in a marshland for
over 8 minutes. The event which saw Aberdeen play host to round three
of the ARR Craib Scottish Rally Championship saw 116 teams from across
the UK line-up to start what proved to be one of the most difficult
rallies the series has seen in a number of years.
As the Stagecoach Bluebird backed crew made their way to the opening
stage they were met with thick fog, and with the Ford Fiesta ST
reaching speeds of over 100mph, the teamwork of driver
and co-driver had never been more important. "We couldn't see much
further than the end of the bonnet in that stage the fog was that bad"
explained Stevie at the end of the opening test.
Stage two would be the longest of the rally, and with visibility
improving the Pirelli shod fast Ford began the stage well, but mid way
through the test Brown slid off the road getting stuck in a bog. It
would take over eight minutes to free the car dropping the team down
the leader board. "This is the first time I've driven this car and the set-up wasn't quite right which meant we had quite a bit of
understeer. We're heading to service now where we can make a few
adjustments to the suspension which should solve the issue" said
Brown.
With the car now handling better the team fought to climb their way up
the leader board, eventually finishing 71st. "When you see the result
in black and white it's not great, but when you consider the
problems we've overcome today, we've done very well to get to the
finish of the rally" explained Stevie.
The Colin McRae tribute award winner continues, "Everyone in the team
has done a fantastic job with a new car in very difficult conditions
and we're looking forward to the next event."
For more information see our News section.