May 2011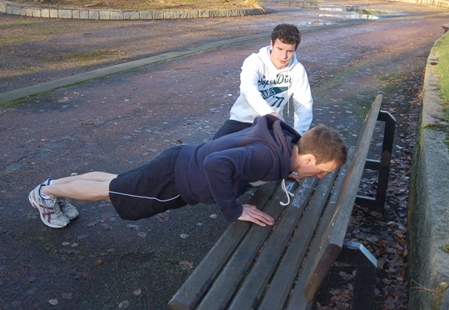 Scottish rally star Stevie Brown is never more happy than when he is driving at over 100mph on narrow gravel roads during rally events, but the 23-year-old is about to embark on one of the toughest challenges of his career, all be it at a more sedate pace when he takes part in the Baker Hughes 10K Run to support local charity Cash for Kids.
The former 1600 Scottish Champion has been working closely with JRRC Fitness to ensure he is on top form come race day. "Our challenge is to complete the 10K run in a time that would have seen us finish on the podium on the Granite City Rally, so I'm aiming for around 40 minutes" explained Stevie.
JRRC Fitness, who have been training Stevie for nearly a year have created a bespoke training program that Stevie believes has undoubtedly improved his performance when he is behind the wheel of his Subaru Impreza rally car. "The training I've been doing with Jamie at JRRC Fitness has definitely improved our performance on events" said Stevie.
He continues "We work on a wide variety of elements, but a large element is cardio to ensure I can maintain maximum concentration for a prolonged period of time, although that cardio training is coming in handy now with this run!" laughed Stevie.
JRRC Fitness Director Jamie Rose says working with Stevie offers a unique challenge. "We keep Stevie's training varied so we're working on different aspects of his fitness, but it also helps keep him motivated. We're using the latest technology and have developed a series of new exercises using kettle bells and the stability ball."
The Baker Hughes 10K run takes place in Aberdeen on May 22nd. Stevie will be joined by JRRC Fitness's Jamie Rose and Cash for Kids Manager Michelle Herd.
For more information see our News section.